Spirit Of Love 2007 Highlights

The third "Spirit Of Love" Gathering in 2007, held on August 17-19, 2007, saw old friends returning again, and new acquaintances, new and old friendships kindling, taking part in activities, as well as paying tribute to the one and only Laura Branigan.

This year's special theme was a celebration of the 25th anniversary of Laura's multi-platinum signature song, Gloria. Besides the beach memorial ceremony, a touching candlelight vigil at the hotel gave fans time to reflect on Laura's music, how Gloria began it all, and Laura's impact on their lives. Also added this year was an optional "Sunday outing", with casual stops in Westhampton Beach, East Quogue, Southampton, and Montauk Point Lighthouse.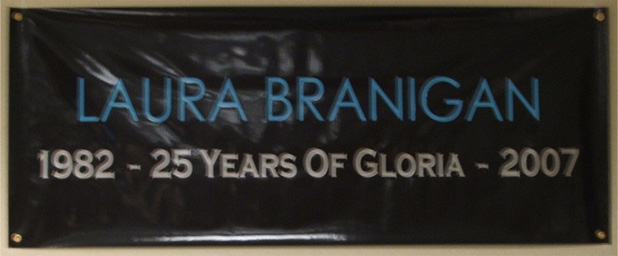 "Gloria" Banner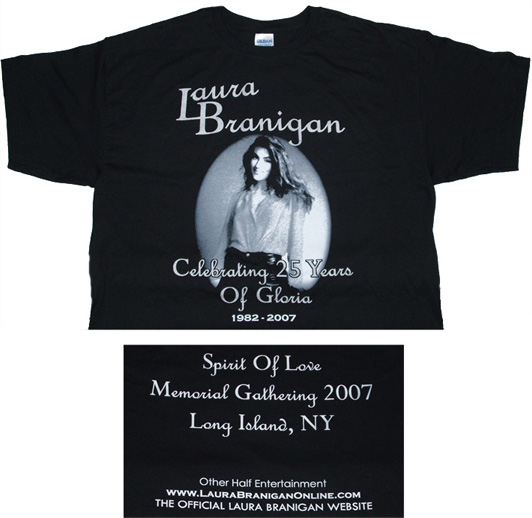 T-shirt design (shown here front and back), by Kathy Golik, Erika Atsumi Foreman, and Steve Hidook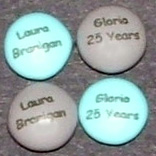 Special M&M's, packaged in metal gift tins, given out as party favors for this year's "Spirit Of Love". The colors used: Cornflower Blue (Laura's favorite color), and Silver (25th Anniversary color).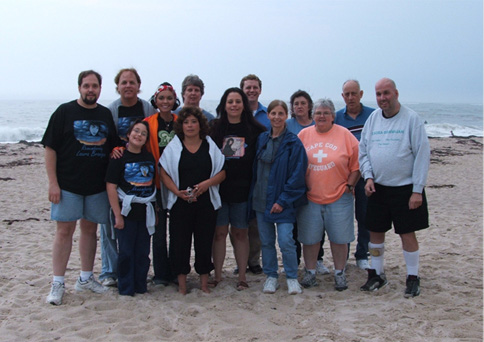 The group photos taken on the beach and at the hotel on August 17 and 18, respectively.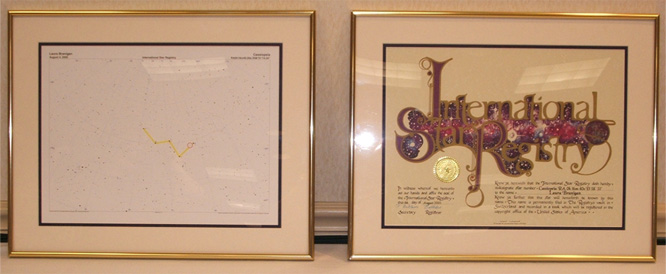 We were honored to accept the Laura Branigan Star Registry plaques, registered and graciously provided to Other Half Entertainment by attendee Richard from Rhode Island.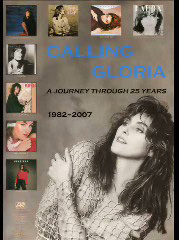 Also on Saturday was the premiere of "Calling Gloria: A Journey Through 25 Years 1983-2007",
the 50-minute Other Half Entertainment-produced feature video.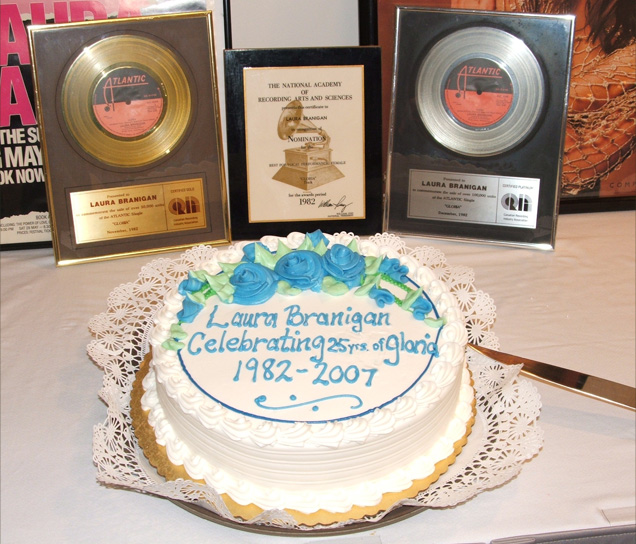 The "Anniversary Cake", enjoyed during the Saturday evening activities following the candlelight vigil.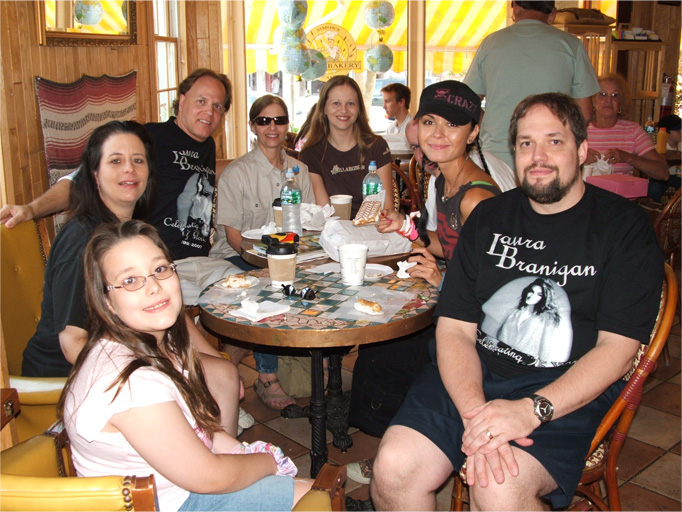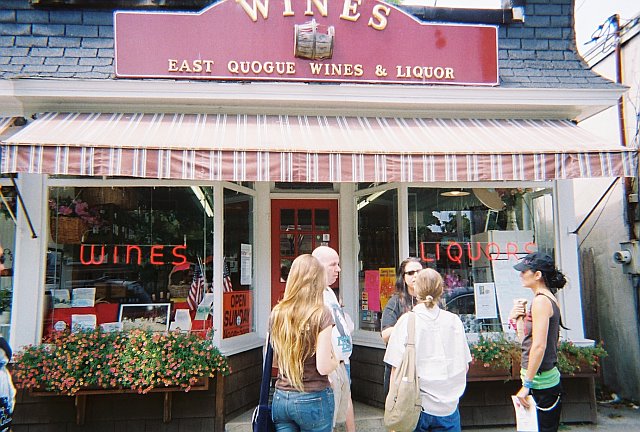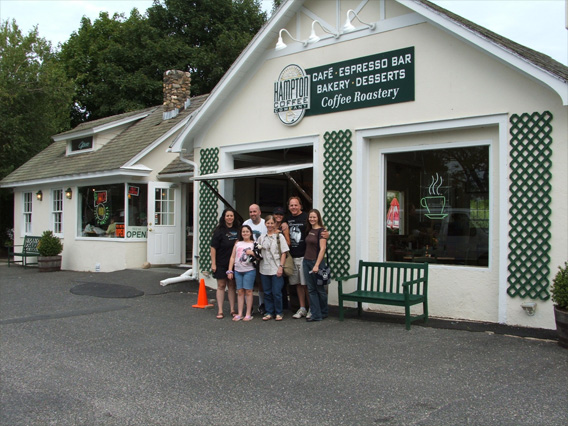 Some pictures of the Sunday Outing on August 19, showing Westhampton Beach, Southhampton (Hampton Coffee Company restaurant), East Quogue, and Montauk Point Lighthouse.
Below are two pieces written for the 2007 Spirit Of Love Memorial Gathering program.


Even Now

Submitted by Tommy Athanasios Bayiokos
Although now three years since that tragic day, even now, I think about things said and done that now make sense as so often is the case when losing loved ones. Laura was truly ahead of her time. She knew people and life, and wanted nothing but the best for her family, friends, and her devoted fans. Her greatest passions were the simplest in life; gardening, cooking, reading, spending time with friends, admiring nature, and the ambiance of the beauty of East Quogue. Laura used to say to me "the secret to success is you have to be obsessed with it, that's how I found my voice". This work ethic clearly showed in the band rehearsals, and in the kitchen as well. So often I catch myself watching shows like Top Chef, and thinking in terms of what Laura would say about a dish; the preparation, the choices, the presentation, the garnish, and of course the seasoning. Even now, I catch myself while performing thinking in terms of what Laura taught me about music, dynamics, space, phrasing, focus; "come down to a whisper" during verses as best illustrated in tunes like "Cry Wolf" and "The Lucky One". I think of fun moments at Laura's final show in Boston, and how she gave me a playful elbow to the stomach when I told the flight ticket agent "nice name". Ironically, the agent had the name tag "Gloria" on, appropriate story for the twenty five year mark. I remember happy moments we had after shows, regrouping with Kathy and Vince for a few cocktails, and Laura meeting some of the fans.

As with any loss, wounds heal over time, and we pick ourselves up and move forward. But as we march through the beat of life, even now we remember, and we may feel sad, but at the same time we may smile knowing the times we all had, and how lucky we all were to be touched by those years.

May God continue to bless you all, and thanks for honoring and celebrating the life and legacy of our dearest Laura.
Cause To Celebrate

by Kathy & Vince Golik
Keeping the memory alive... that's what we think each one of us do each time we remember Laura with fondness, each time we play a song, share her gifts with others, or spread the word in various ways about the incredibly talented lady who left us too early, three years ago. Many in the past years have connected with Laura through someone or other, and many had since found out Laura had passed. Thinking about those times, when people would remember her with such excitement and fondness, they were so easily disheartened by the news she had left this world. But none seemed to just walk away saddened; rather, they seemed to join the ranks of those of us who keep Laura alive in our hearts.

If there is cause to celebrate this year that 2007 marks the silver anniversary of her most identifiable mega-hit "Gloria", there is even more cause to celebrate her life, how much she meant to each and every one of us, and how the fans who once knew Laura well, and may have lost touch with her in the everyday, have come back to find her anew, albeit in memoriam, yet always rejoicing for each special, unique story we hear; how her life, her love, her artistry, her realism, her down-to-earth simplicity of life, touched each one of us in those special ways that we will never forget.

Perhaps there isn't one single reason we can finger to explain why Laura touches all of us in ways that make us connect to her more uniquely, more deeply, more specially, than other artists we have known in our lives. Perhaps that's just as well. Just as Laura was an incredibly unique talent, far ahead of her time, so her connection to each of us is all at once individual and common. Individual in that we all have a special story to tell; common in that no matter who we are, where we come from, we all come together to celebrate the life, the love... LB.
Page updated: December 29, 2007, 8:00 PM EST